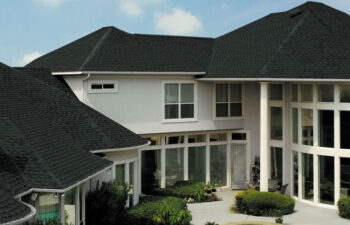 More goes into home building and design than how the building looks when finished. Even the roof contains more than the shingles, shakes or metal panels seen from the ground. Homes must be designed and built to local codes, and some of those codes include factors like area weather conditions. For homes built in Tennessee, Kentucky, Virginia and other areas that receive periods of extreme cold and winter precipitation, ice and water shields are a necessary roofing component.
Damage from Water
Water is most insidious in how it penetrates and causes damage to homes and other structures. A home roof structure is designed and built to shed water quickly, so it doesn't pool and penetrate the roofing components. Some weather can complicate this process or stop it altogether, raising the risks for extreme water damage inside the home.
Windblown Water
Water blown in high, gusty winds can penetrate the edges of a roof, underneath shingles and in angles or valleys. By the time the interior shows the signs of this water infiltration, untold hidden damage has already occurred in your attic, ceilings and walls.
Ice Dams
Ice dams form when water freezes around the gutters at the roof's edge. This prevents melting snow from draining away; the water re-freezes, enlarging the ice dam and damaging your roof. The water can also pool and penetrate your roof, causing interior damage.
Additional Protection from Water
A home's roof contains multiple layers of material that are designed to shed water and prevent leaks. However, circumstances like those described above can still cause leaks and damage. This is where roof ice and water shields can provide vital extra protection. They are rubberized roofing components secured in strategic areas around the roof edge, chimneys, valleys and other areas to prevent water penetration from pooling, wind and ice dam formation.
Ice and water shields are easily installed when replacing an old roof or installing a new roof for a new home. While local codes in your area may not require them, they can be an additional selling point for builders that add this extra protection.
Mid-Atlantic Roofing Supply sources ice and water shield products from several top brands for both residential and commercial roofing applications. Contact our modern roofing supply center near you and ask about ice and water dams for additional protection against water penetration. A team member can provide product knowledge and ordering assistance as needed.
Posted on behalf of Mid-Atlantic Roofing Supply