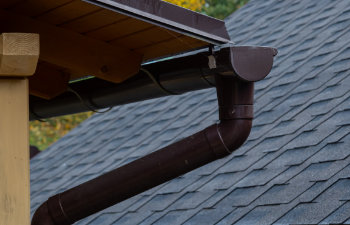 Effective roof drainage is a mystery to many homeowners who believe it is a one-size-fits-all concept. First, choose your roof covering, add on some gutters and attach a few downspouts. In reality, roof drainage is both an art and a science that defends against water infiltration through a complex mix of pitch, slope, placement and quality of materials. To stay at the forefront of roof drainage, contractors and suppliers need to be aware of client behaviors and concerns for aesthetics and sustainability.
The Preference for the Hidden Downspout
Traditionally, downspouts have been tucked away to minimize their visual impact. While this does provide some protection for the building, it isn't always the best approach to roof drainage. The optimal placement requires understanding the volume of water the roof will shed. This requires the ability to envision which portions of the roof will shed more water than others. Valleys and intersections may need more than one downspout to effectively control the water and prevent overflow or backup. Finding aesthetically pleasing options is critical to ensuring your client is happy with the final look.
Poor Grading Presents a Unique Challenge
The slope of the ground also presents its own challenges. Discharged water needs to move away from the foundation, and downspout extensions perform this job well. However, homes with extreme grading issues may require a conversation with the homeowner if the need for excess extensions will run afoul of stormwater management regulations. Even when the grading is good, it never hurts to mention to the building owners that the extensions are there for a reason, as far too many owners remove the extensions and leave water draining directly at their foundations, undoing any roof drainage solutions.
Eco-Friendly Approaches to Roof Drainage
Forward-thinking contractors can work with both residential and commercial clients as they shift their focus toward sustainability. Most rainwater harvesting applications you'll see will be clients interested in rain barrels instead of downspout extensions, although they may not realize the barrels still need overflow protection and a way to move excess water away from the building should they fill up. Another common request is drainage into a rain garden, where plants are arranged in a swale. The water is collected in the center and slowly percolates away, watering the plants. However, with environmental concerns becoming more pressing, more complex water harvesting systems will become the norm, and roofing contractors will do well to enhance their offerings with seamless and aesthetically pleasing tie-ins to these new technologies.
Partner with Mid-Atlantic Roofing Supply
Mid-Atlantic Roofing Supply uses our multi-state network of supply centers to leverage our local knowledge and industry expertise to offer you the best roofing products and materials from top vendors. As a roofing supply leader across the Middle and Atlantic United States, we can help you source materials for any size job and budget. Whether you need basic gutters and downspouts for your warehouse or require more creative drainage solutions, we have the experts that can help your contractor clients meet their customer's goals. Contact us today for all your roofing needs.
Posted on behalf of Mid-Atlantic Roofing Supply