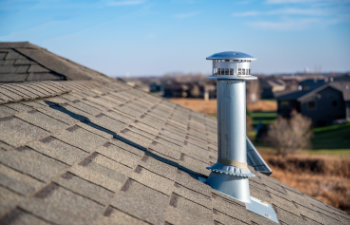 When constructing, repairing or replacing a commercial roof, it's important to consider if you've met all the requirements for safety and access. Roof hatches and smoke vents are indispensable components of commercial buildings, serving both safety and accessibility purposes. Roof hatches provide secure and convenient access to the rooftop, while smoke vents ensure occupant safety in the event of a fire. Incorporating these elements into your commercial roofing project not only enhances your building's functionality, but it may also help you comply with relevant building codes and regulations.
Enhancing Building Safety with Roof Hatches and Smoke Vents
Roof hatches are a critical component of commercial building design, providing safe and convenient access to the rooftop for maintenance and repair tasks. They are constructed from durable materials, such as aluminum or galvanized steel, and feature weather-resistant gaskets to ensure a watertight seal. In addition to their functional benefits, roof hatches can also improve the overall appearance of a commercial building by offering a clean and professional look.
Smoke vents play a vital role in ensuring the safety of a commercial building's occupants in the event of a fire. They are designed to automatically open when triggered by heat or smoke, allowing for the rapid release of smoke and heat from the building. This not only helps to protect the building's structural integrity but also provides a safer environment for occupants as they evacuate.
Complying with Building Codes and Regulations
Federal, state and local building codes and regulations will dictate the specifications, installation and maintenance requirements for both roof hatches and smoke vents. Safety concerns aside, compliance with these regulations can help protect your business from potential fines or legal issues in the event of an incident.
To meet required codes, you'll need to know the requirements for the size and layout of your building, the installation regulations and ongoing inspection schedules. Additionally, it is essential to select products from reputable manufacturers that are known for their quality and durability to get the best return on your investment.
Mid-Atlantic Roofing Supply: Your Trusted Two-Step Distributor
Contractors looking to enhance the safety and functionality of a commercial building will seek out high-quality products and any required accessories in the most convenient way possible. Mid-Atlantic Roofing Supply provides local roofing suppliers with reliable products to support the needs of their contractor clients.
As a two-step distributor, we source directly from manufacturers at the best prices possible, ensuring a seamless and efficient supply chain to local roofing supply stores across the United States. Contact us today to learn more about how we can help you enhance the product selection and contractor satisfaction at your roofing supply store.
Posted on behalf of Mid-Atlantic Roofing Supply