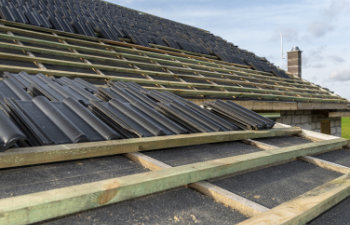 There is no one-size-fits-all approach to roofing felt. The best roofing felt for your residential construction project is the one that takes into account the needs of the building, your client's budget, the climate it's being installed in and the type of roofing material that will be covering it. Acting as a protective layer between the roof deck and the shingles, it serves as a secondary layer of protection against the elements, helping to prevent leaks and water damage. There are four main types of roofing felt available, each with their own unique advantages and disadvantages.
The Four Types of Roofing Felt
Factors to consider when selecting roofing felt include durability, ease of installation, resistance to weather conditions, client budget and environmental impact.
Asphalt-saturated felt: This is the traditional roofing felt used in residential construction. It is made from a base of organic or fiberglass matting that is saturated with asphalt. It is affordable and easy to install, but not as durable as other types of roofing felt.
Rubberized asphalt: This type of roofing felt is made from a synthetic rubber material that is blended with asphalt. It is more durable than traditional asphalt-saturated felt and is less prone to cracking in cold temperatures. It is more expensive than traditional felt, and it can be more difficult to install.
Non-bitumen synthetic: Made from either polypropylene, polyester or fiberglass, it is lightweight, durable and more resistant to UV rays and moisture than traditional felt. Since it can be recycled, it is considered more eco-friendly than other roofing felts. However, it is more expensive and may require special techniques to install.
Self-adhering: This is a newer option made from a rubberized asphalt material that has a peel-and-stick backing. It is easy to install, does not require nails or special tools and is highly resistant to leaks. However, it is more expensive, and it may not be suitable for roofs with complex designs.
The Right Underlayment Ensures Longevity
The right underlayment can make all the difference in the longevity and protection of every roofing system. With so many options on the market, it can be challenging to select the right one. Mid-Atlantic Roofing Supply is your reliable and trustworthy partner for all your roofing needs. With everything you need in one place along with expert advice and services, we are the leading provider of wholesale roofing solutions for small and large building supply stores.
To ensure your client contractors can install a roofing system that provides superior protection against the elements for years to come, partner with Mid-Atlantic Roofing today.
Posted on behalf of Mid-Atlantic Roofing Supply