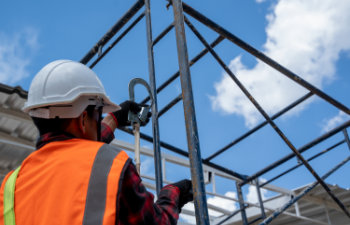 Commercial roofing insulation provides a vital thermal barrier between the roofing system and the inside of your building. Choosing the best insulation product for your needs reduces heating and cooling costs with a resulting impact on your operational budgeting. Mid-Atlantic Roofing Supply sources various types of commercial roofing insulation products from the top brands in the industry.
Which commercial roofing insulation do you need? Let's take a look at the types available from our vast network of building supply centers.
Mineral Wool Fiber Insulation
Mid-Atlantic Roofing Supply sources top-brand ROCKWOOL mineral wool fiber insulation in batts or boards. This stone-based insulation product works for various commercial roofing applications. It is known for being resistant to moisture and withstanding high heat, making it ideal for use in hot climates or on buildings with a higher risk of fire.
Expanded Polystyrene
Expanded Polystyrene (EPS) is a closed-cell rigid insulation made from polystyrene resins. The EPS product is made from beads of polystyrene that are heated and fused together to form blocks that can be used in a wide variety of applications. Air pockets in voids between the blocks provide superior insulating properties. This commercial insulation is very affordable and can be used in hot or cold climates.
Extruded Polystyrene
Extruded Polystyrene insulation (XPS) is pressed through a die to produce a large, continuous piece of smooth material with a closed-cell structure. XPS commercial roofing insulation has superior water penetration protection and is extremely durable. Mid-Atlantic Roofing Supply sources the DOW brand of XPS roofing insulation, and it is excellent for use in both built-up and modified bitumen and single-ply roofing systems.
Polyiso
Polyiso (Polyisocyanurate) is a rigid foam board insulation made of continuous closed cells sandwiched between two facers for superior air, moisture and fire resistance. Polyiso commercial insulation is available with different facers that all comply with ASTM Type II provisions and are suitable for all types of commercial roofing. Mid-Atlantic Roofing Supply sources Polyiso roofing insulation from top brands like ATLAS, Johns Manville, GAF, Firestone, GenFlex and R MAX.
Choosing the Best Insulation for Your Commercial Roofing Project
Your local Mid-Atlantic Roofing Supply Center specialists can offer advice and guidance for every commercial roofing project. We can help you review your roof's shape, type and the available space to help you choose the best commercial roofing insulation. Our team will also discuss whether you need beads or sheets, flexible or rigid products, the best R rating for your needs and more.
For decades, commercial roofing contractors have been coming to Mid-Atlantic Roofing Supply for superior products and timely assistance. Contact your local Mid-Atlantic Roofing Supply location to learn more about each type of insulation product and get the help you need with selecting products, installation, ordering, financing, delivery and more.
Posted on behalf of Mid-Atlantic Roofing Supply