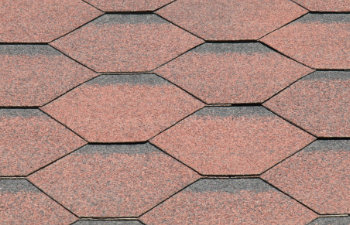 The refined look of a classic slate tile roof offers a timeless beauty that many homeowners find irresistible. Along with the wide range of available sizes, colors and cuts, slate tiles are also a good investment—with proper installation and maintenance, slate roofs far outperform other roofing materials. However, traditional slate roofing has some considerations that may make them unsuitable for certain jobs. Thankfully, composite slate roofing tiles offer an alternative to meet your client's needs.
The Slate Alternative
As a natural stone product mined from the earth, slate roofing is incredibly heavy. Homes that were not designed for a slate roof may not have the structural support needed to support the additional weight. Since composite slate roofing tiles are made of crushed limestone and synthetic resins, they are much lighter and can be used on a wider variety of homes.
The quarrying, cutting and delivery of heavy natural slate increases its price point, but additional costs are incurred during installation. Installing natural slate is a specialized process requiring experienced craftspeople, resulting in higher labor costs. Composite slate roofing is less expensive to manufacture and can be installed by most roofing contractors. For customers concerned with fire ratings, composite slate tiles are extremely fire resistant, thanks to the high limestone content.
Composite slate roofing tiles are attractive, durable and long-lasting, providing homeowners with a cost-effective and accessible product that provides the aesthetic appeal of natural stone.
You Can Depend on Mid-Atlantic Roofing Supply
Mid-Atlantic Roofing Supply sources our products, including composite slate roofing tile, at the best prices possible, and we pride ourselves on ensuring a seamless and efficient supply chain for locally owned roofing supply stores across the South and throughout the United States. Our carefully planned prime shipping routes keep your deliveries on time and our warehouses stocked.
With years of industry leadership, a commitment to providing the highest quality products and excellent customer service, we can help you make select the right roofing materials and accessories for your project. We can also assist with project submittals, tapered estimating and architectural support services.
Contact Mid-Atlantic Roofing Supply today for more information about our quality residential and commercial products and business support services.
Posted on behalf of Mid-Atlantic Roofing Supply