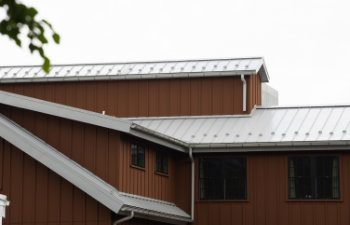 When selecting the best commercial roofing insulation, there are a few key factors to consider. Not only do you want insulation that will provide effective thermal performance and energy efficiency, but you also want a durable, long-lasting material that can withstand the wear and tear of daily use.
Key Considerations
Review the project and critical factors concerning the roof type and design. Here are some general considerations:
First and foremost, you need to consider your roof type and its overall condition. Are you installing a roof on new construction or replacing an existing roof? Different types of insulation are better suited for different kinds of roofs, so choosing the right one for your specific situation is essential.
Another critical consideration is the R-value of the insulation you choose. This is a measure of its thermal resistance. The higher the R-value, the more effective the insulation will keep the building comfortable and energy-efficient.
You should also consider the durability of the insulation, as well as its resistance to moisture, fire and other forms of damage. This is particularly important if the roof is exposed to harsh weather conditions or the potential for leaks.
Of course, your roofing budget and ease of installation are also vital considerations. While investing in high-quality insulation is essential, you must also ensure that it fits within your project budget and can be installed without too much hassle.
Commercial Roofing Insulation Types
Polyiso (Polyisocyanurate) roofing insulation is a rigid foam board insulation made of continuous closed cells that resist air and moisture penetration. This material is sandwiched between two facers for superior insulation and weather resistance. It is fully compatible with built-up roofing (BUR), modified bitumen and single-ply roofing systems.
Another popular option for commercial roofing insulation is rigid foam insulation. This type of insulation is made of expanded polystyrene (EPS) or extruded polystyrene insulation (XPS) and is available in various thicknesses and densities. Rigid foam insulation is highly durable and can withstand the weight of heavy equipment and foot traffic, making it an ideal choice for commercial roofing applications.
Other types of insulation materials can be used for commercial roofing applications. These include fiberglass batt insulation, made of spun glass fibers and available in pre-cut panels, and mineral wool insulation, made of natural rock or slag fibers and known for its fire resistance and soundproofing qualities.
Commercial Roofing Services for Our Partners
Selecting the best commercial roofing insulation is an important decision that can significantly impact the energy efficiency, durability and overall performance of your building project. Mid-Atlantic Roofing Supply offers several commercial roofing services for our partner supply stores across the county. Our specialists can help your clients with tapered estimating, project submittals, architectural support, and commercial roof project estimates. Contact your nearest Mid-Atlantic Roofing Supply distributor to learn more.
Posted on behalf of Mid-Atlantic Roofing Supply